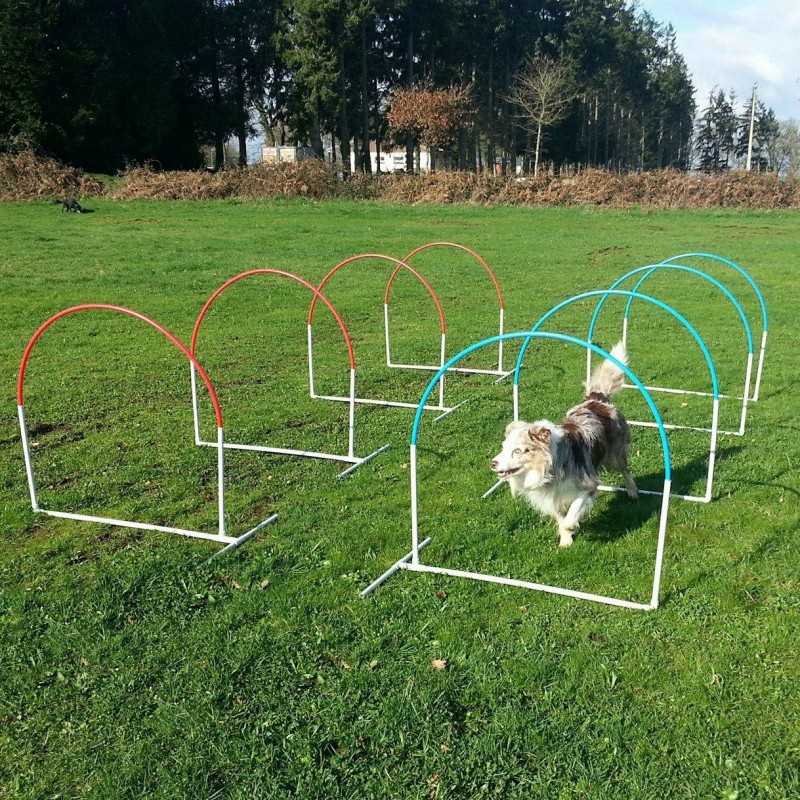  
Hoopers - The dog sport that's becoming popular everywhere.
What is hoopers?
Hoopers is a dog agility sport that is very popular in America and the UK and is now becoming popular in Europe.
Hoopers is designed to demonstrate the dog's ability to follow directions and guidance from the handler. It is very low impact as the dog runs through specially deisigned hoops. There is no jumping involved..
Hoopers involves allowing dogs to run at a distance from their handler, as they are guided around a course as in agility. Working a dog from a distance is a feature of hoopers which means that it is not only suitable for dogs that can't jump, but it is very popular with handlers that can't run!
Hoopers is a fun activity for all sizes & breed of dog. It is especially suitable for younger dogs as an early introduction to their agility training, it is popular for developing speed and directions, plus it is great exercise & mental stimulation for older and/or retired agility dogs.
It also allows handlers with limited mobility to enjoy taking part in this fun dog activity which is open to ALL.
The assembly is fast and simple... only 3 pieces!
As there is no no jumping it is excellent training for pre agility dogs, and retired dogs to continue doing sport. It develops speed and skill for agility training.
You might also like
Customers who bought this product also bought: