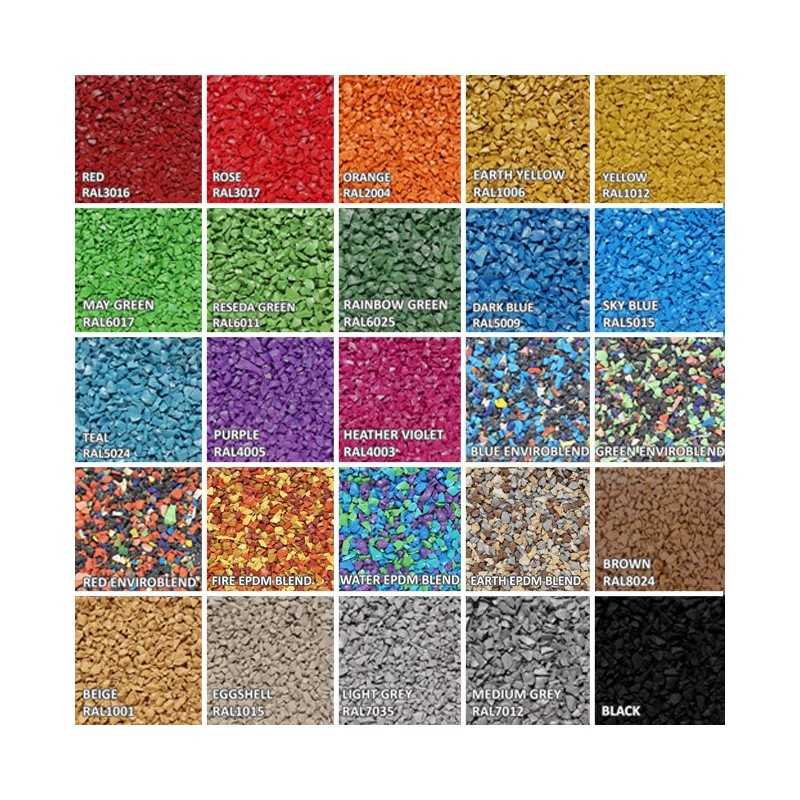  
Rubber Granules per Kilo
Suitable for all weathers, the rubber surface will give you a durable and easy to maintain surface.
Uv resistant
No colour fading
High quality
Anti-Slip
(Binder sold seperatly)
(Available in pre-made mats to custom sizes)
(Other colours available on order)
Rubber granules per kilo.
Suitable for all weathers, easy to maintain and durable.
Requires binder which is sold separately.
Tools required.
For skin type: Gloves, spatula, trowel, masking tape and something to press the granules onto the glue.
For Wet pour: Gloves, Scales, bucket, mixer, trowel and masking tape.
Please find below the amounts for either the skin or wet pour methods.
See Saw (Skin type)
Main colour. 3.05kg
Contact colour. 2025 kg
Binder. 0.66
See Saw (Wet pour)
Main colour. 4.5 kg
Contact colour. 4.05 kg
Binder. 1.368 kg
Dog Walk (Skin type)
Main colour. 13.56 kg
Contact colour 2.25 kg
Binder 1.98 kg
Dog walk (Wet pour)
Main colour 21.68 kg
Contact colour 4.05 KG
Binder 4.104
A frame (Skin type)
Main colour 14 kg
Contact colour 8.12 kg
Binder 2.77 kg
A frame (Wet pour)
Main colour 29.153 kg
Contact colour 18.285 kg
Binder 7.591 kg
Specific References
ean13

0300792891726

upc

030803942306